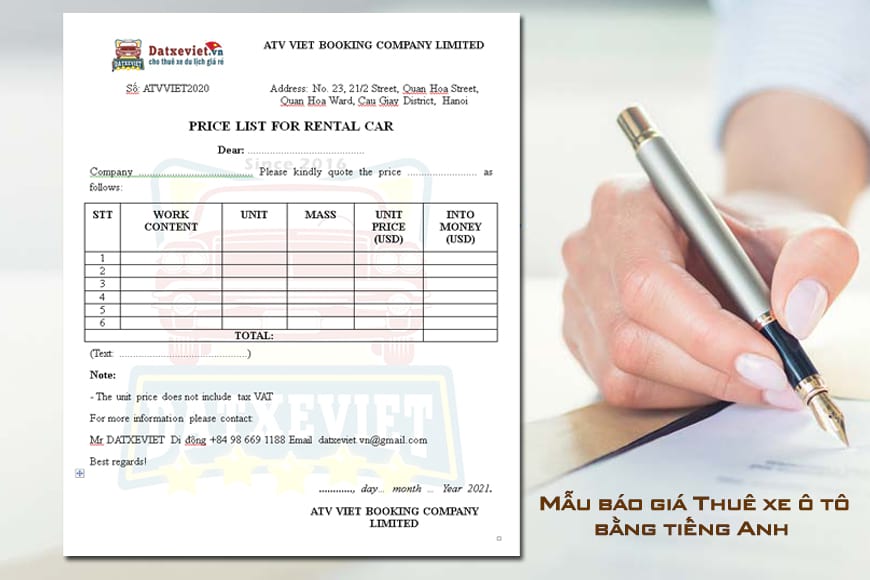 28 Tháng Bảy, 2023
Author: Vienceo Vu | 2021-07-09 14:24:21 | View: 3095
ATV VIET BOOKING COMPANY LIMITED
Số: ATVVIET2020    Address: No. 23, 21/2 Street, Quan Hoa Street, Quan Hoa Ward, Cau Giay District, Hanoi
QUOTATION / PRICE LIST FOR RENTAL CAR
Dear: ……………………………………
Company ………………………………….. Please kindly quote the price ……………………. as follows:
STT    WORK CONTENT    UNIT    MASS    UNIT PRICE
(USD)    INTO MONEY
(USD)
1
2
3
4
5
6
TOTAL:
(Text: ……………………………………….)
Note:
– The unit price does not include tax VAT 10%
For more information please contact: Mr ….. Di động +84 98 669 1188 | Email: datxeviet.vn@gmail.com
Best regards!
…………, day… month … Year 2021.
ATV VIET BOOKING COMPANY LIMITED
Tải mẫu bảng báo giá bằng Word tại đây!
CÔNG TY TNHH ĐẶT XE VIỆT ATV
Số: HD 27012021/VIETTEL-ATV
CỘNG HÒA XÃ HỘI CHỦ NGHĨA VIỆT NAM
Độc lập – Tự do – Hạnh phúc
———∞——–
CAR RENTAL CONTRACT
No: ………………………………
Contract Date: ………………
According to the Civil Code became effective as from 01st January 2006;
According to ability and requirement of both parties.
Party A:    ATV VIET BOOKING COMPANY LIMITED(View here)
Address: No. 23, 21/2 Street, Quan Hoa Street, Quan Hoa Ward, Cau Giay District, Hanoi
Tel: +84 98 669 1188
Fax:         ……………………
VAT  Code:    0109070686
Represented by  Mr. VU DUC VIEN Director.
Party B:    ………………………………………………………………………………..
Address:    …………………………………………………………………………………………………..
Tel:         ………………………
Fax:         ………………………
VAT code:     ……………………….
Account No.:     …………………………………………………
Represented by Mr/ Ms. ………………………, Director
After discussion, both Parties have agreed to sign this contract on the terms and conditions as follows:
Article 1: Rental period and place
Rental period is …from ……………….. to ………………..
Working days: …………….. days per month from …..day to …..day, not including Holidays.
Working hours: from …………AM to ……….. PM daily.
Mileage Limit: ………….Kms/……….days
Work based:  …………………………………………………………………………………………
Place to pick up passengers: According to user's requirement.
Article 2: Rental vehicles and charges
Rental vehicles and monthly base charge:
No.
Kind of Car
Quantity
Rate/car/month
(USD)
1
……………………..
………….
…………….
Other charges:
– Over Time rate (before ….. am and after …. pm)        : USD ………../hour
– Over Limited Mileage rate (excess of …….kms/….days)    : USD …………/km
– Night Stay charge: (Only for out of Ho Chi Minh City)        : USD ………../night
– Sunday and Holiday working charge:            : USD ……../…..hours/100Kms
2.3     All charges are inclusive of Value Added Tax.
2.4    In the event that average monthly fuel price increase or decrease more than 10% from the current price (VND ……), the submitted rate may be adjusted upon writing approval of both Parties.
Car rental charges include gasoline and driver's salary, driver's daily lunch.
Road toll fee, parking fee, airport fee, ferry fee will be paid by Party A.
All costs and expenses occurred as the consequence of traffic accident will be at Party B's account.
Article 3:     Drivers
Driver should be experienced, competent and familiar with the general ……………………. area.
3.2   Driver should have fair English speaking skill.
Article 4: Payment
All rates are quoted in USD.
Party B is responsible for marking a report with all monthly schedule and fees on fac with Party A's signature and submit to Party A within 5 days at beginning of the next month.
Party A is responsible to settle payment to Party B regularly every month in cash or transfer payment to Party B's Bank within (07) seven days from the  issuing date of invoice.
Article 5: Other terms and conditions
Party B is responsible for all legal documents and formalities for transportation of the above-mentioned vehicle.
Party B is responsible for the technical conditions of the vehicle. Any damaged vehicle shall be replaced immediately by another vehicle of the same quality/ same price.
Party A is not allowed to bring any illegal, flammable, or explosive materials into the vehicle.
Any change and/or supplement that may arise during the implementation course of this contract must be informed 30 days in advance and settled through mutual agreement.
In case of accident, any liability and settlement of claim lodged by third Parties will be the sole responsibility of Party B.
Insuring car and passengers (US$10,000 for each person) are the responsibility of  Party B.
Party B must inform in writing and get approval from Party A in case of changing the car for any reason, except for car breaks, or the change suggested by Party A.
The terms of this contract are confidential. Both Parties agree not to disclose them to any person unless applicable law requires.
The contract is made into four (04) original copies, two (02) in English and two (02) in Vietnamese of the same validity, each party retains two (02) original copies, one (01) in English and one (01) in Vietnamese. The contract comes into force from the signing date.
PARTY A                            PARTY B
Mr. ……………………………..                                           Mr. ……………………………
Director                                                                                         Director
Tải mẫu hợp đồng thuê xe Ô TÔ Tiếng Anh / Contract form Tại đây!
==> Xem thêm các mẫu hợp đồng cho thuê xe mới nhất Tại đây!
==> Mẫu phụ lục hợp đồng thuê xe song ngữ Anh Việt Tại đây!
==> Mẫu báo giá thuê xe theo tháng, xem hợp đồng và tải chi tiết Tại đây!
Originally posted 2023-01-03 15:37:16.